Monetary Donations
The best way to help secure Putnam Camp's future is to help fund our urgent projects with a financial contribution to the Knights and Dames fund. Last year we received $41,000. Ideally, we need $50,000 for the urgent projects we have yet to complete. These include: fixing electrical systems, doing important plumbing and sill work throughout Camp, rebuilding the Coop roof and rebuilding the Nursery.
Online Donation
Donations can now be made directly to our bank with a credit card through a secure online portal:
By Check
Alternatively, you can write a check payable to "Putnam Camp" and mail it to:
William Attride, Treasurer
300 Mercer St., #9H
New York, NY 10003
Any amount helps. If you can only contribute something small, we urge you to start the practice of participating in this annual lifeline for preserving Putnam Camp. $5 buys us a box of nails, a kitchen utensil, or a set of seeds for the garden. $50 buys a cooking pan or enough timber to replace a sill. $100 buys us a set of plates or a stack of shingles. $200 is enough for a mattress; $500 gets us a chainsaw; and $1000 would put us well on our way into one of our larger, urgent projects.
Donate a Specific Item from our Wishlist
If you would rather contribute by giving Camp a particular item that we need, please see our current "wishlist" below. If you see an item on this list that you may be able to provide, please contact the manager to inquire about making a gift.
Red blankets for queen and twin-size beds.
Flatware: small and large forks.
Kitchen knives.
Heavy duty sauté pans.
Other miscellaneous pots and pans.
White sheets, mostly twin size.
Dark bath towels, hand towels and wash cloths (brown, green & khaki.)
Help Camp During Work Weekend
Dedicated Putnam Campers can help us open Camp and complete big projects during our annual Work Weekend. This year's Work Weekend is scheduled for June 22-25, 2017. If you are interested in attending, please contact the manager to see if there is room.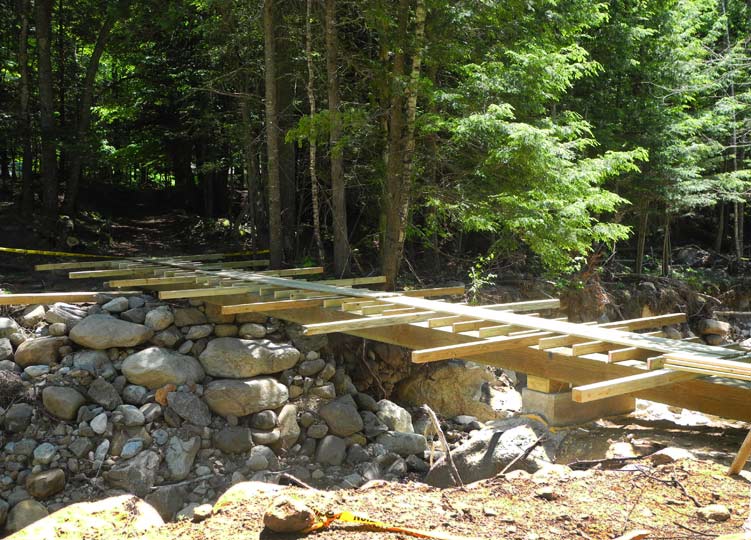 Building the new bridge during work weekend 2012 after Tropical Storm Irene.
Click here
to see more pictures of Work Weekend projects.